Currently I'm using Lancaster's Infinite White Moisturiser.
It has SPF and claims that constant use will help to illuminate your skin, which means u look more radiant lor.
Tried the sample from Her World, and found that it's quite good. You can use it as a Make Up base as well. It's not greasy and smells great! So far, I think Tangs and OG has it. So if you have Citibank Tangs card, you can buy it (think it's around $92?) and get rebates too.


Been using it for more than 2 months and since you only need to use a pea size to dot on your forehead, cheeks and chin, you can use it for a long time.
Was going through Flowerpod forum one day and found that a lot of girls are raving about BB creams. BB cream also known as Blemish Balm cream. It is formulated for ladies with blemish-prone skin, and was showcased during Nu Ren Wo Zui Da. Thus ladies suddenly go gaga over it.
So.. me.. a self-proclaimed make-up junkie of cos wanna try lar..
Furthermore, the BB cream now has quite a few properties like anti-aging, whitening, sun-block and also a cream foundation.
Most of the BB creams in Singapore is either from Skin Food, The Face Shop, Missha, SA SA or Beauty Language (or Beauty Credit?). Nevertheless, I bought the one from Skin Food - Mushroom BB Cream. It's irritatingly.. EXPENSIVE!! $68 leh!!!!! Lucky got discount if you use HSBC card.
So... I tried lor.. Some of the forum girls say it contains silica aka silicone (most of the BB creams also).. so maybe becos of that, your skin look smoother.. but beware of clogged pores.
I guessed mine did.. still got pimples popping.. SIANZ..
Whitening properties.. well.. maybe it did.. whiten slightly.. ? Hardly noticeable..
Thick and.. quite easy to blend.. Coverage, ok only wor..
Then I went to Ebay one day... and found another brand Coogi which was also introduced in the forum and many girls love it! It doesnt contain silica nor mineral oil. Because you cant get it in Singapore, the only way they claim is either through sprees in Livejournal (seriously.. I no idea where to find one lor..) or from Ebay.


Anyway, got to know one seller selling it. It's relatively cheaper than Skin Food's.
If you are interested, can search for codinara. She will ship from Seoul, Korea to Singapore. Shipping charges of cos.. is expensive. But you will also receive lotsa samples from her as well!
I bought 2 tubes from her.. and mind you, the tube isnt big, compared to Skin Food.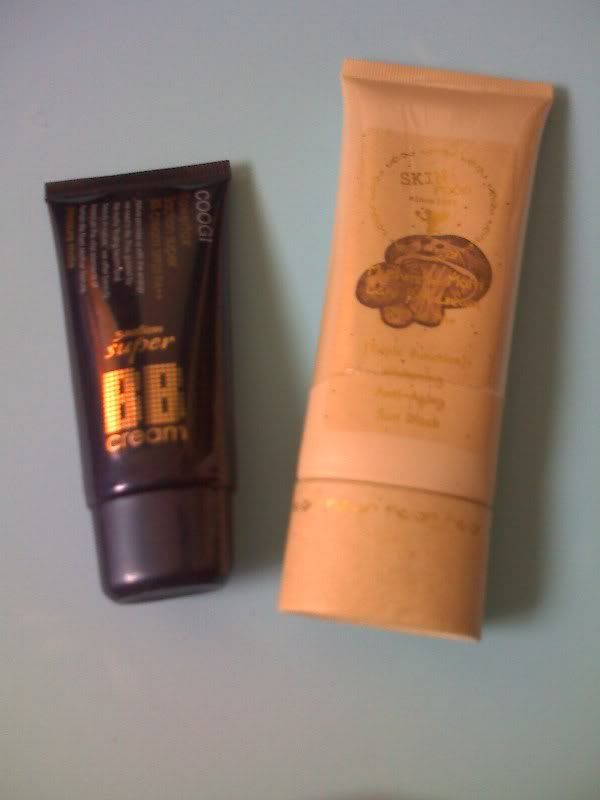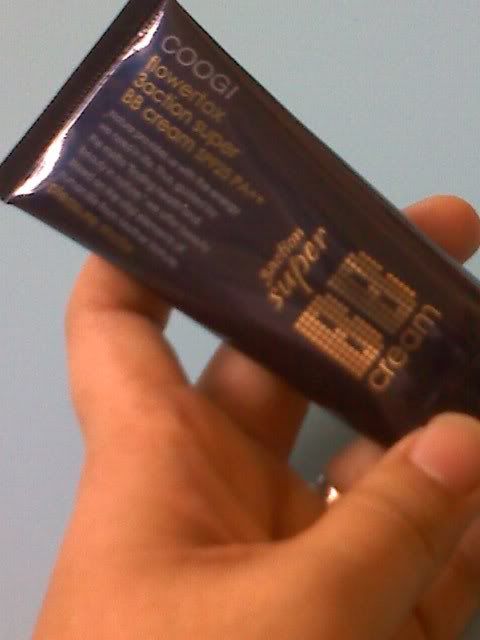 It may be small.. but.. IT'S REALLY GOOD!!
Beats Skin Food hands down leh!
Easier to blend cos it's not very creamy and thick, but slightly more watery than Skin Food.
Smells good.. staying power, fantastic!
Coverage is relatively on the medium side, so for girls who has better skin, you probably dun even need concealer. As for me, just a few dabs of concealer and the scars are covered up quite well.


I have no idea how long the product can last before it expires, so I'm not buying in bulk. Only when I'm at my 2nd tube, I'll order from codinara again.

My skin has indeed become better. No idea which product is the one but.. I'm sticking to them for now.


If you are wondering how to apply makeup with BB cream as foundation, here's how (or how I do mine). Note that BB cream is already a cream foundation, so do not attempt to put on 2-way cake, else you will risk looking all cakey and wayang-ish. For now, it's more for fair-skinned ladies since it was formulated in Korea/ Japan. So I'm not sure if the colour will suit our Malay/ Indian ladies.


Step 1: Put on your moisturiser (Lancaster has SPF so I dun use sun block). Let your skin absorb.


Step 2: Once your skin is ready, you can squeeze a 5 cent size cream onto the back of your hand. In this way, you dun have to worry about putting too much. Just dab a little using your finger, for me, I start at my forehead. Dab and blend.


Step 3: Similarly do the same for the rest of your face. For me, I avoid my eye lids area. Dab a bit more at areas where you need more coverage. Becos you start out putting a bit, you can then layer more when needed.


Step 4: Dab on concealer where you need.


Step 5: I dab a little BeneTint on my cheeks. This serves like a base (cos even when your powder blush is gone, you still can look as though you got some blush).

I dun really follow the method told on the bottle (draw 3 lines on each cheek). Before I can blend, BeneTint has already dried and by then I would have been looking like a cat.. LOL. So what I did was staining one of my fingers and then blend (or dab) on my cheeks. Layer more if needed (but risk looking like baboon butts).


Step 6: Loose powder to set the foundation. Instead of using a brush, I use those conventional puff. Using a light hand, pat your face all over with the puff as though you are dusting your face. As you do that, press down the puff as well. In this way, you can minimise your pores (visually). A trick i learnt from the makeup artist that does my makeup on my ROM.
You can use those mineral makeup finishing powder as well. There's once I tried dusting my mineral makeup foundation, but I really look like having heavy makeup on. So.. not advisable lor..


Step 7: Your face is now done and you can proceed to do your eye/ cheek/ lips.
For a nude look, just put on a base colour for your eyes, then line them, not forgetting to use your mascara. For cheeks, just lightly dust some blush and put on lip gloss or pink lipstick (you can blot your lips with a tissue). Your nude look is ready. Cool eh?


The makeup can last for some time till after lunch before I need to blot. No patches or what-so-ever..

I went for exercise in my makeup as well, and after a bath, my makeup still there with a slight tint of blush. Probably just need to touch up a little with pressed powder but I didnt. Cos going home liao wat.. no need to waste makeup.
Ha ha ha ha...
Oh well.. Hesitating whether to buy Make Up For Ever's HD loose powder or not.. hmm... :(