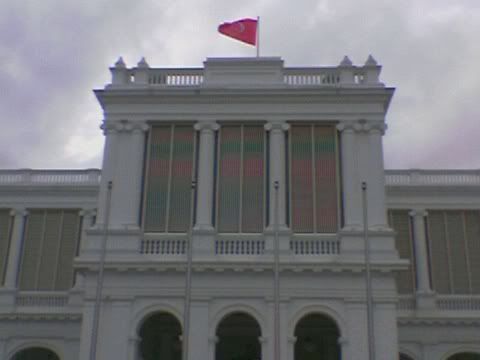 5th February...
Istana... Chinese New Year Garden Party...
I was 'arrowed' to become... a part-time escort for SM... and PM...
From 2pm onwards, we were there... waiting for guests to arrive..
PM, SM and MM won't arrive till 4pm..
Food: so-so, catered by Raffles Hotel.. (I like their western pastries.. yummy)
Atmosphere: tense... everyone waiting for the big shots' arrival..
People: Grassroots leaders, ministers etc
When the big shots arrived...
You probably would wanna find a place to hide, away from the mad crowd.. I was squashed alive.. everyone pushing to get a pic of them.. and their handshakes..
Seriously... PM and SM are really cool people!! They are so FRIENDLY~!!!
Of cos, both have bodyguards closed to them (and we are part of their bodyguard party).
** did I mention the bodyguards... some were really cute-looking?**
I managed to get a handshake with PM, right before he left in his car..
My 1st .. and probably the last... contact with our country's hot shots...
My 1st and last time... that I ever wanted.. to STAND CONTINUOUSLY FOR 8 HOURS STRAIGHT W/O RESTING!!!!!!!
p/s: we did however.. awarded with 1 day time off for our 'efforts'. WAHAHAHAHAHA..