Ever since we had new colleagues coming in since October, the office (particularly our section) was pretty rowdy. Of cos, I'm not quite the main reason.. though my CSEs always wondering who was the heck laffing behind the door.. FYI, I'm sitting just IN FRONT of the damned door (leading out to the service centre).. HOW UNFORTUNATE..
Anyway, the group of us (young and old) just happened to be able to click together. So we always talked rubbish everyday, make jokes, gossip (about some bitchy stuffs), even to the extent of messing up everyones' desk...
This is what happened to Maria's table (right in front of her own eyes)..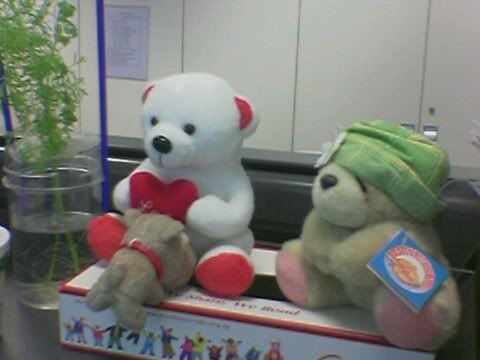 It was actually supposed to be 3 of 'it' arranged in a row.. but Maria took it off.. So we had to restraint her.. and created this scene...
This is part (and parcel) of our office life.....
I love my office... (^-^)